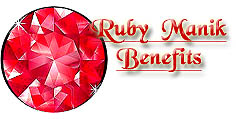 Ruby is the stone of Planet sun , As per Astrology the Sun signifies father, courage, power and authority, boldness, ambitions, commanding power, generosity and dignity . Thus on wearing the Ruby the person the Person achieves the above .
As per Astrology On wearing the Ruby ( manik ) Gemstone one feels a development of soul force and creates confidence, optimism and courage in him.
Ruby ( manik ) Gemstone is very good for success in higher competitive exams, especially in the Indian civil services.
Ruby( manik )Gemstone is considered lucky gem for all those are born under number 1. As the Sun rules this number.
Ruby ( manik ) Gemstone plays dominating role in many career paths of politician, bureaucrats , actors, jewelers, and Persons in Government Services like the Police , Tax Departments etc
Ruby ( manik ) Gemstone stimulates blood circulation and protects and gives relief one from all sorts of blood related problems .
When in anyone Horoscope Surya or the SUN is debilitated in Libra Rashi or occupies debilitation / great enemy navamsa or is conjunct Shani / Rahu / Ketu or the Birtrh of the Person is on eclipse day then wearing of a Ruby ( manik ) Gemstone enhances the prospects of native and serves him good.
RUBY GEMSTONE PROPERTIES A ruby is a pink to blood-red colored gemstone, a variety of the mineral corundum (aluminium oxide). The red color is caused mainly by the presence of the element chromium.
Rubies have a hardness of 9.0 on the Mohs scale of mineral hardness.
The Density of a RUBY ( Manik ) Gemstone is 3.99- 4.1; usually around 4.00.
The Refractive Index is Approx 1.763-1.770
All natural rubies have imperfections in them, including color impurities and inclusions of rutile needles known as "silk". Gemologists use these needle inclusions found in natural rubies to distinguish them from synthetics Rubies.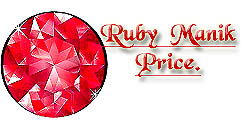 Regular Quality

Ruby ( MANIK )

Gemstone Price Starts from Rs 800 per Carat onwards.
Fine Quality

Ruby ( MANIK )

Gemstone Price Starts from Rs 1200 per Carat onwards.
Super Fine Quality

Ruby ( MANIK )

Gemstones Price Starts from Rs 2000 per Carat onwards.

The weight of the Ruby ( MANIK ) gemstone should be at least more than 4 Carats
• It should be studded in Gold or panch Dhatu Ring only.
• It should be worn in the Ring Finger of the Right hand .
On Sunday Morning ,

Put this ring with a Cup with a mixture of 1 spoon curd , 1 spoon Honey , 2 Spoons Milk , ½ Spoon Sugar , ½ Spoon Ghee.

They do your regular Morning Prayers.

After your Regular Prayers, Take this Ring out of the Above Mixture and wash it with Water or Ganga Jal .

Then Recite this Mantra: " Om Hrim Sum Suryaya Namah" 108 times after wearing the Gemstone.
This Ring is to be worn on a Sunday at Sunrise.
Also on this day the wearer should donate money/ Wheat / Jaggery to a Brahamin or a poor people.
We Provide Original Natural and Best Ruby Gemstones ( Manik ) @ Wholesale Prices
YOU CAN ALSO GET A LABORATORY CERTIFICATE OF AUTHENTICITY FROM A REPUTED GEMSTONE LABORATORY ON PURCHASING THE GEMSTONE.
For Best Name Change Numerology Astrology Horoscope Guidance for Business , Job Marriage ,
Contact India's Top Astrologer Numerologist and Vastu Expert.

Mr Amit Lamba on 9819015736 / 9324012326 www.amitlamba.com

Copyright - Amit Lamba - Mumbai INDIA


Yellow ruby gemstones,Manik Birthstone , natural ruby, genuine Burmese rubies, red corundum from Madagascar, ruby gems, Manik gems, wear ruby, Sun's gemstone , Mumbai , Bombay , India ,Birthstone ,GEMSTONES, Lucky Stones , GEMS GUIDANCE, Gemologist , RATNA ADVICE ,Gemstone Consultant , Birth Stone , Gems Advice , Gems Expert , ENERGIZED GEMSTONE - Mumbai, India , Precious Stones , Semi Precious , GEMS, Lucky Gems , Birth stones , Lucky Stones . Gemstones India, Gemstones Mumbai, RATTAN, RATTAN India, ASTROLOGY India, Neelam , Pukhraj , Shani , Pearl, Gemologist , Ruby, Manik ,Red Garnet , Pearl, Moti, Moonstone, Emerald, Panna ,Aquamarine, Zade, Diamond, Heera White Sapphire, Blue Sapphire ,Opal, Lucky Gems , Lucky Stones.

Submit ExpressSEO Services & Tools